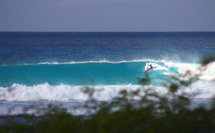 Allamanda Surf Camp is the leading surf camp in Guadeloupe. Created in 2000, the surf camp is located on the Saint Francois end of Le Moule, in direct proximity to the best surf spots in Guadeloupe. The camp rests in a 5000-square-meter tropical garden and has a private 5x11m swimming pool. Every package (Free, Guide, or School) includes lodging in one of the camp's lovely bungalows.
Allamanda Surf Camp offers very reasonable prices and accepts no more than ten guests at any given time, which guarantees that you'll have tranquility at home as well as on the water.
Book your trip now!
Pour ce qui est du surf, avec Allamanda Surf Camp, vous avez le choix de la formule surf qui vous convient le mieux en Guadeloupe. Vous pouvez par exemple opter pour le "pack free surf" ou le "pack surf guide", ou encore le "pack surf school".

Le surf en Guadeloupe convient à tous les niveaux, grâce à la diversité des spots situés tout autour de l'île. Notre expertise en matière de surf vous permettra de vous rendre aux meilleurs endroits selon les conditions météo du moment.